Blowjobs are great because the receiver doesn't know what's going to happen next. In fact, that element of surprise is what keeps guys cumming. . .literally.
So, that's most likely why the innovative makers of the new Autoblow A.I. developed a new sex toy for men that aims to recreate the unpredictability of real oral sex while still providing its users with complete control over the kinds of blowjobs they experience.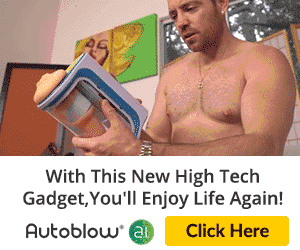 Today's adult entertainment stores are full of pleasure products for women, with very few options for men (as though guys don't like to masturbate or something).
The fact of the matter is that gents love ejaculation just as much as the ladies, if not more. Unfortunately, most modern-day male masturbators are little more than crudely assembled body part replicas that require manual up and down power to enjoy. But thanks to the perverted genius of the inventor, Very Intelligent Ecommerce Inc., the wonderful world of personal pleasure products just got a lot more interesting.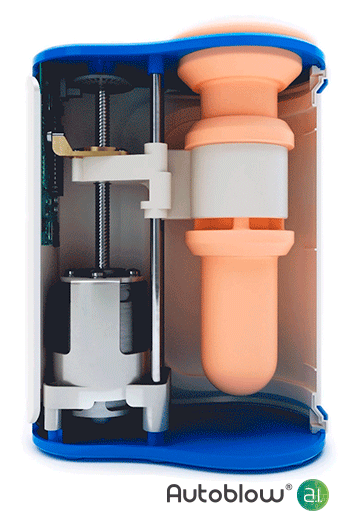 Having been manufacturing high-quality sex toys for over a decade at this point, the American-born company got started online as a B2C company before transitioning to a B2B venture prior to launching the IndieGoGo campaign that brought the Autoblow A.I. into existence. The development team, which is headed by Brian Sloan, initially asked for only $45,000 in crowdfunding. However, once mainstream media sources like Maxim Magazine, Alpha XR, The Huffington Post, and CNBC got wind of their new product, the team ended up with over $744,000 in total so far. Playboy even gave the thing an 8-page spread in their June 2016 issue. 

Meanwhile, the makers are trying to funnel their campaign's success into the development and improvement of the male orgasm through focusing on one single sex act – the BJ. Apparently, the company is lead by men who were tired of high technologies not being integrated into contemporary pleasure products. Here is a quote directly from the CEO:
"We believe that psychologically, the sensation of our machine stimulating you without using your hands offers a deeper, more intense, and more satisfying masturbation experience."
I'm not sure that there are many men who would disagree with that statement, but then again, less products are still being sold. As for this unique device, it sold over 3,300 units within the first few months of being on the market and updates are already on their way (for example, the Real Doll sleeve being painstakingly produced by hand out in a California workshop). With things like this happened just beneath the current, it looks as though the realistic sex toy industry is about to have some enormously erotic shoes to fill pretty soon.
What Is the Autoblow A.I.?

The Autoblow A.I. isn't typically referred to as a "toy" by those who use it. It's more like a masturbation "machine," with more power than your standard handheld sex toy could ever dream of having. The delicious device in question is therefore ideal for single people or couples with one or more partners who don't like performing oral sex as much as the other partner(s) like receiving it. Furthermore, it's probably a good choice for guys who just want to try out something new too.
A MUST WATCH AUTOBLOW A.I. PRESENTATION
CLICK HERE TO VISIT THE OFFICIAL AUTOBLOW A.I. WEBSITE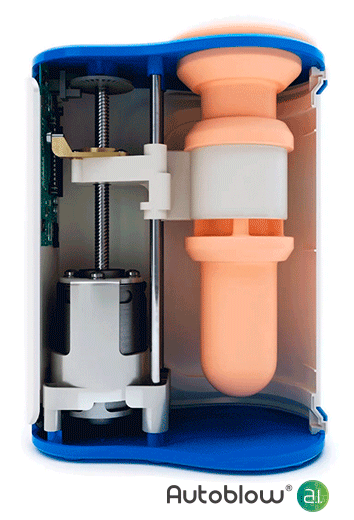 With an overall design that's focused primarily on simulating the sensations of oral sex, the AAI utilizes the tech industry's highest-rated components to deliver robust and reliable orgasms in a safe and psychologically sound manner. The "secret sauce" is the use of pre-programmed settings operated via an on-board computer that uses artificial intelligence to keep things unpredictably erotic. And while there are numerous toys like this one on today's male sex toy market, none of them have integrated such user-friendly technologies into their design like the Autoblow A.I. has. Basically, this motorized contraption was invented to help men find balance in their sex lives and we're all much better off because of it.
The Main Features of Fame
As a fully automatic masturbation machine with the ability to mimic the very same sensations of oral sex, most people expect the Autoblow A.I. to have some pretty amazing features on its resume.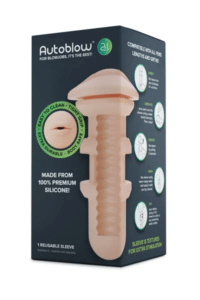 Fortunately, the maker did not disappoint. Using an on-board mini-computer with four extremely delicate sensors, this "toy" generates three-times the power of its predecessor while remaining 50% quieter at the same time. 
To perform its magic, thus mighty machine utilizes a curious combination of its patent-pending penis gripper and its texturized silicone sleeve to move the chamber gears up and down along the shaft of your penis at any of the 250 different positions for an exceptionally realistic blowjob experience. However, simply having a bunch of pleasure zones and a soft canal isn't enough for most men to get excited about. The best part of this product is the artificial intelligence integrated into its operating system.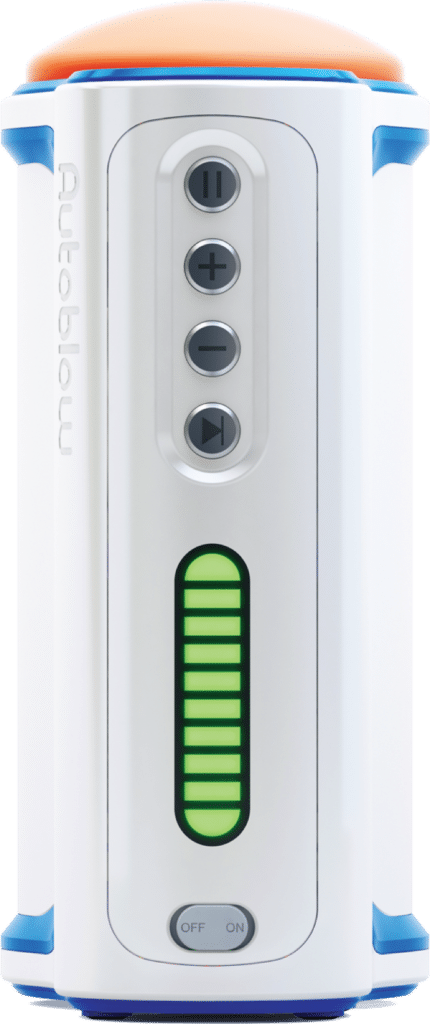 The developers reportedly looked at over 6,000 minutes of pornographic BJ footage to determine the top 16 most pleasurable techniques. They then used that data to program 10 different modes into the toy, each one with a distinct stroking pattern. Best of all, the A.I. mode gives users a brand-new sensation every time it's turned on and it does so by learning your behaviors with every session. And while the unpredictability of the artificial intelligence may seem exciting to most, the developers still included several customizable features for the man who wants to be in more control over his orgasm. Case in point: the revolutionary "Edging" function. 
As the first of its kind to have such a feature, the Autoblow A.I. allows users to start and stop their masturbation session at will without losing their favorite setting. Built-in buttons on the side of the machine act as speed controls as well, and the entire thing gets plugged directly into the wall for its power, meaning you never have to worry about expensive batteries or recharging times. (P.S. the A.I. also makes the machine keep changing its technique until either you finish or you unplug it. So, there's essentially no way to get around having an orgasm with this thing).
What You Get for the Money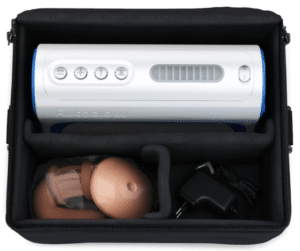 Consumers who purchase one of these machines don't get any freebies in the box with their toy, and I assume that's because the AAI got its start through the generosity of interested investors and has been pouring all of its profits into various mechanical updates and ergonomics improvements instead of wasting it on lube samples and marketing ploys. Most self-respecting sex toy manufacturers don't do that kind of thing anymore anyway, plus it's generally assumed that the buyer already has the appropriate supplies and accessories to enjoy the product. The Autoblow A.I. is no exception in that regard.
Mr. Sloan says the price is set to be affordable for every man, and he even mentions the fact that some buyers can get theirs for cheaper than the initial asking price if they go about it the right way (AKA: become an investor). Either way, this somewhat pricey penis-pleaser comes with the following items:
The machine

1 textured, silicone mouth sleeve

An AC/DC adapter
NOTE: The type of plug-in adapter you receive is based on the country in which you live.
The Good, the Bad and the Ugly
No matter how amazing a sex toy is, there will always be something that the manufacturer can improve upon. However, it's rather difficult to find much to complain about when it comes to the new Autoblow A.I. because the inventors took such an intuitive approach to its development. Either way, here are the things you need to know about it:
PROS
Edging function for climax control

New experiences with every use

Realistic sleeve texture and appearance

Interchangeable sleeves available

Never needs charging or batteries

Universal power adapter included

Works with all penis sizes

Made from skin-safe materials

Industrial-grade fan-cooled motor system

Easy to clean and maintain

CONS
Somewhat large

Moderately expensive

Interchangeable sleeves sold separately

Shipment of products may be slow
I think it's a safe bet to assume that the market shares my opinion here: When a sex toy has nearly three times the pros than it does cons, it's a very decent pleasure product. Nothing will ever be perfect, but the good, the bad and the ugly on this device are very well-balanced.
WHERE TO BUY AUTOBLOW A.I. ONLINE:
Special FAQ about the Autoblow A.I.
There are a few facts that need to be pointed out about the updated Autoblow before anyone spends any money on it. First of all, the power source on this thing is by far one of the least convenient on the market. Rechargeable batteries are generally favored on automatic masturbation devices, but the A.I. generates far too much torque for that kind of thing.
A rechargeable battery would get drained too quickly, making a plug-in power source the more convenient option for many users. With a 10-foot power cord instead of a big, heavy and expensive battery, the overall weight and the cost of production were both reduced significantly, translating to greater savings for the consumer who, by the way, isn't eligible for a refund because of the policies pertaining to IndieGoGo campaigns.
Furthermore, guys with extra-large penises may have a hard time keeping the machine in motion. According to their own admission, girthy dicks may cause the mechanisms inside the toy to stop completely. Their advice: Turn the speed up a notch because it's not a defect, it's simply physics. And while minor settings adjustments may take care of problems like that, there are no free solutions to the fact that their interchangeable sleeves are always sold separately from the device (and at a price that's nearly 25% of the total cost of the toy). Sleeve options available include the mouth, the vulva, and the anus until the Real Doll model is released.
Regardless of the features you use or choose, there's one thing that everyone has in common when they're enjoying the Autoblow A.I.: exceptional user-friendliness. As such a high-tech tool, it's surprising how easy this thing is to clean and maintain. Post-blowjob routines typically involve little more than pulling out the removeable sleeve from its chamber, pouring its contents into the sink, rinsing it thoroughly with soap and water, then laying everything out to dry on a clean, flat surface. And despite the toy's relative realism, there are no special cleaning supplies required and no material preservation powders to fiddle with either.
The Gist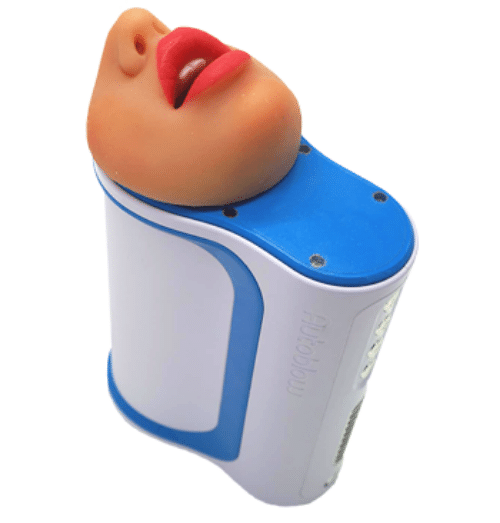 Innovators like Brian Sloan and his team deserve more recognition for their unique concepts because those concepts have the ability to change the way we experience and enjoy orgasms. Simply by adding already developed artificial intelligence technology into their machine's design, the makers of the remarkable Autoblow A.I. have revolutionized the world of sex toys and oral stimulation without sacrificing familiarity or ergonomics along the way. For that, the industry has embraced this product like a newborn baby at its first christening.
There are numerous similar sex toys out there these days – automatic male masturbation units that crank the user's yank without the first bit of manual assistance required. However, the AAI stands apart from the rest of those machines because of its curious combination of user-friendly features which include things like realistic sleeve textures, patent-pending penis grippers, and fully customizable pleasure settings just to name a few. If there's ever anything invented to rival this thing, it wi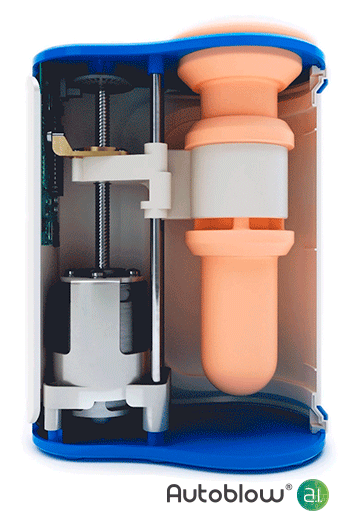 ll automatically be considered a knockoff because this is the original indeed. 
Those who buy the Autoblow A.I. become part of a much bigger movement that pertains to the sexual revolution of men – something that no other sex toy manufacturer can claim. As a high-quality pleasure product that's made right here in the United States, this so-called "toy" is a prime example of what hard work, determination and the American Dream can accomplish if given enough support by the masses. Apparently, the masses have been begging for a decent BJ machine since about 2014 and this bad boy could most certainly be the answer. You can find more information or buy Autoblow A.I. at their official website.