At A Glance: Our Top 4 Picks for Prostate Massagers
IMAGE
PRODUCT

Our Top Pick

Our Top Pick

SenseMotion remote for movement-activated vibrations
2 vibrating motors for twice the vibration power
Discreet and wireless design

Powerful prostate massager with rotating head
3 intense vibration speeds
Made from smoothest silicone

Slimline rotating silicone prostate massager with remote control
Wireless remote control works up to 15 meters away for exciting couples play
Whisper-quiet for discreet fun

7 thrilling patterns and 5 powerful speeds to explore via the downloadable app
Completely waterproof
Perfect for solo play and even better for couples
Once you've reached the level of sexuality where you play with prostate massagers, there is no turning back.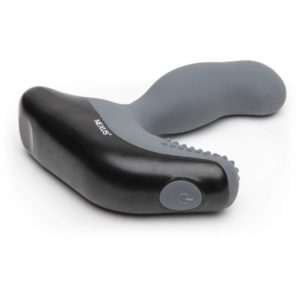 Usually, what starts out as an adventurous experiment ends up being a way of life.
After all, there's nothing quite like an orgasm from the inside out. Some of you guys know exactly what I'm talking about.
Fortunately, there's a prostate massager out there for everybody.
On the flip side, however, rummaging through all those options without a clue as to what you should be looking for, well, that can be a real pain in the ass (literally).
Lay your weary head to rest, boys. I have a solution.
NOTE #1: The solution I came up with requires a little homework on your part.
As hard as I try, I still can't determine the ideal sex toy for someone else. But just for shits and giggles, let's use the following buyer's guide to point us in the right direction, shall we?
What Is The Difference Between a Prostate Massager & a Butt Plug?
It's impossible to select the best prostate stimulator when you don't really know what a prostate massager is, and it's even harder to use one if you have no clue what you're doing.
There is no knowledge that isn't power, they say, so why would knowledge about your sex toys be any different?
The only way to achieve a decent O-face with your favorite plaything is to know it like the back of your hand.
With that said, understanding the difference between a prostate massager and your standard butt plug is important.
All too often, misguided fellas get things mixed up. It's time we stopped the madness.
A majority of prostate massagers look and function similarly, with a few exceptions on either end of the spectrum.
Typically, prostate massagers are curve-shaped to easily stimulate the p-spot, and many of them come with perineum stimulators or attached cock rings as well.
The two main differences between a prostate massager and a standard butt plug are usually the shape and functionality of the toy, as most butt plugs are conical shaped instead of curved and many of them don't vibrate, rotate, or otherwise.
Your typical butt plug is a simple tool, most often used to simulate anal sex or aid in sexual dominance play.
Butt plugs aren't often used to stimulate the prostate or perineum, although I suppose either one is possible with the right technique.
More suitable for ass play pros, butt plugs aren't as fancy as prostate massagers but they can be just as fun.
NOTE #2: Anal beads and other non-vibrating anal toys also fall into this category.
Now that you've successfully graduated from Prostate Massagers 101, we can move on to the heavier stuff: which features you should look for in order to track down the perfect prostate massager before your wallet and asshole start a riot.
5 Features to Fall For When Choosing The Best Prostate Massager
If you believe that all prostate massagers are the same, you'd only be halfway right.
Yes, many of the models look and behave alike, but that doesn't mean there are no major differences.
The first time you go cramming any ole prostate massager into your anus without first considering its features, you'll understand exactly what I'm talking about.
So, instead of selecting your next toy based on its creative marketing, its brand name, or its attractive packaging, why not pick it out based on the shit that really matters?
I've compiled a concise yet comprehensive 5-point checklist of the things you should be keeping an eye out for when shopping for a decent prostate plaything.
Don't worry; you can thank me later.
The Girth of Your Worth (Size)
Some say that size isn't a big deal, but they're just trying to be nice. Whether we're talking about the size of a bank account, a set of tits, or a sex toy, measurements matter.
First things first, check out the size of the prostate massager you're looking at.
Smaller ones are more ideal for newbies, while larger models are great for guys who've been around the block a few times.
The Angle of Your Dangle (Shape)
Prostate massagers are famous for having some rather peculiar shapes, from round and bulbous to thin and hooked.
Since it's damn near impossible to know exactly where your p-spot is until you find it a few times, selecting a prostate massager based solely on its shape is a bad idea.
Still, you should at least consider the form.
I mean, come on, the angle of your dangle is unlike anyone else's. Why, then, should you opt for a one-size-fits-all sex toy?
The Motion in Your Ocean (Functions)
Sometimes, the functionality of a prostate massager can make up for its otherwise disappointing form.
Rotating heads, vibrating motors, and gyrating shafts generate a pretty good time if you use them right. And when those same functions work independently on an attached perineum massager or cock ring, hold your horses, cowboys.
I guess what I'm trying to say is that the functionality of a prostate massager is a bit more important than its physical attributes, but I suppose that's all a matter of preference and experience.
The Cover of Your Lover (Material)
We're living in a material world and I am a material girl boy.
The only thing that means is that I have to worry about the materials with which my sex toys are made and so should you. A few manufacturers out there have produced some rather questionable shit.
I, for one, won't have my asshole paying the price for it.
Instead, I stay away from latex and phthalates by purchasing prostate massagers made from silicone or TPE only.
You have to use water-based lube all the time, but that's the best stuff anyway, plus you never have to explain away a nasty rash on your balls from a mysterious "allergic reaction."
The Squeak to Your Freak (Maintenance)
Considering the fact that these prostate massagers are made solely to go up your ass, the toy's user-friendliness and ease of maintenance are vital.
Do you need a special cleaning solution, or can your new plaything simply be rinsed off with some warm water and soap?
Will your prostate massager catch fire if it comes near moisture or can you bring it into the shower with you?
Don't ask these questions after you bust open the box.
Ask them now.
Our Top 10 Best Prostate Massagers For Men in 2023:
Not having any luck finding what you need despite all our good advice?
That's A-Okay because all the difficult work has been done ahead of time.
The following toys have been up so many asses that the jury had no choice but to elevate them to stardom.
Now, the only thing hard will be your dick as you reach the ultimate orgasm using one of these top 10 prostate massagers:
#1 The LELO Hugo – Best Prostate Massager Overall
---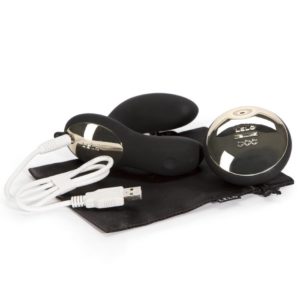 As one of the most luxuriously made p-spot stimulators in all the land, the well-made LELO Hugo is a finely tuned force to be reckoned with.
Made out of medical-grade silicone and polished to a smooth, velvety finish, this body-conscious bad boy delivers direct stimulation to the prostate while being sized suitably for nearly all experience levels.
It cums with a wireless remote control that's covered in the same soft material, meaning it can double as an external stimulator if wielded by the right hands.
The insertable part of the main device measures 5.5 inches in total length and has just under 4 inches in total girth, plus it features a unique dual prong design for simultaneous teasing of the perineum during penetration.
PROS
Uses motion sensing technology for hands-free fun

Remote doubles as a secondary massager

Six pre-programmed pleasure functions to explore

Fully rechargeable via USB
CONS
May be too large for some users

Requires extra batteries for the wireless remote

#2 The WE-Vibe Vector Prostate Stimulator
---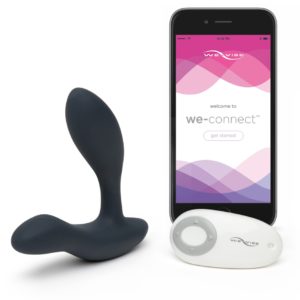 Crafted to be the kinky couple's go-to pleasure product, the WE-Vibe Vector is a high-powered prostate massager designed specifically for newbies (although it's appropriate for experts as well).
It features an adjustable head that's securely attached to a flexible base – both of which are ergonomically positioned to stimulate the prostate and perineum at the same time.
The device itself houses a range of 10 of rumbly vibrations via a robust, battery-operated motor, but all functions are controlled through the built-in interface, the wireless 4-button remote, or with the downloadable WE-Connect app for a smart phone.
Made out of smooth silicone and whisper quiet even on its highest setting, this thing is the silent killer.
PROS
Low power alert light for more convenient maintenance

Fully rechargeable via USB

Submersible in water

Ergonomic dimensions for improved couple's experimentation
CONS
May not be large enough for the pros

Requires extra batteries for the wireless remote

#3 The Nexus Revo 2 Prostate Massager
---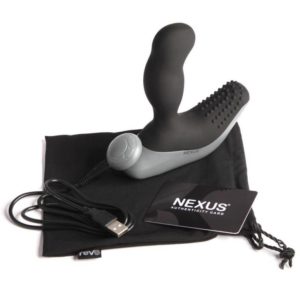 The Nexus Revo 2 is marketed as more of a perineum stimulator than a prostate massager and nobody can figure out exactly why that is, especially considering the fact that this thing features three distinct pleasure settings for a grand total of six extremely satisfying rotation/vibrating combos.
It's crafted out of silky-smooth silicone so it works wonders on all skin types and with water-based lubes, plus its rotation and vibration functions can be used together or separately for an all-encompassing good time.
The hypoallergenic construction and safety base make it super easy to handle, and its durable materials require no special supplies to properly maintain.
PROS
Comes with a limited manufacturer's warranty

Fully rechargeable via magnetic USB

Water resistant for enhanced versatility and easier cleaning

Ridged arm for extended pleasure sessions
CONS
Does not feature a wireless remote control

May be too bulbous for some users

#4 The LELO Loki Wave
---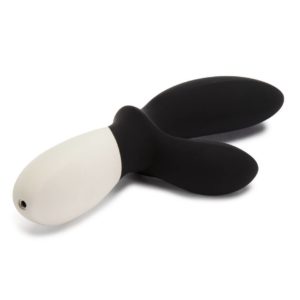 This prostate toy for men is different than anything on the market, plus it looks like a rabbit dildo at first glance because it doesn't feature the telltale p-spot massager design like all the rest.
The upright and upstanding device uses the maker's patented WaveMotion technology – a fancy way of saying it creates movement inside the machine based on the user's activity.
The entire shebang is operated through two powerful motors that are designed to target the p-spot and perineum as the orgasm intensifies.
The LELO Loki Wave massager functions through 8 pre-programmed pleasure settings, all controlled through the built-in button interface on the dominant side of the device for easier handling.
PROS
Large handle and grip for superior control and safety

Fully submersible in water

Available in two colors (obsidian black and federal blue)

Rechargeable via standard USB
CONS
Does not come with an external power source

May not be suitable for all body types

#5 The Nexus Revo Slim
---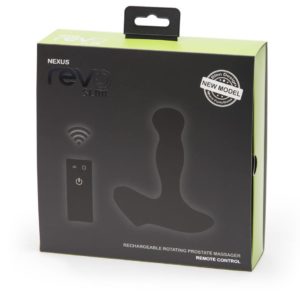 The Nexus brand consistently produces high-quality sex toys for men and their new Revo Slim is no exception.
It's one of the best-selling products in their inventory and it's perfect for beginners because of the relatively compact size (hence the "slim" in its name).
Using the same fan-favorite technology as the bigger Revo 2, this thing consistently delivers intense and targeted pleasures to the p-spot and perineum through a series of vibrations and rotations that work together or independently.
In fact, the shaft offers two distinct speeds and rotates in two different directions for extreme, customizable fun that totals 34 different pleasure combinations in total.
It's made out of high-grade silicone and measures 95mm in total insertable length for body-conscious stimulation no matter the experience level.
PROS
Ideal for p-spot play newbies and couples

Fully submersible in water

Wireless remote control included

Rechargeable via standard USB
CONS
Batteries not included with the wireless remote

May not be big enough for some users

#6 The nJoy Pure Fun Stainless Steel Prostate Massager
---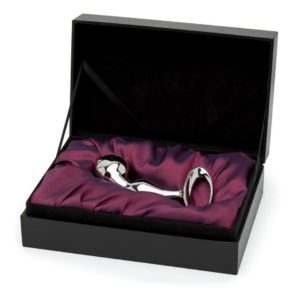 Cast out of 316 medical-grade stainless-steel and hand polished to a glistening shine, the nJoy brand has done it again with their Pure Fun Wand for anal stimulation.
It's the perfect pairing for kinky temperature play, plus it's compatible with all skin types and every lube variety under the sun.
The non-porous materials are easy to clean and the convenient finger loop on the bottom makes it easy to control while inside the anus.
Attractive and powerful, this manual p-spot stimulator doesn't vibrate at all but it makes up for all that with its extremely pleasurable bulbous design.
Best of all, it doesn't require any special equipment or skills to use and it comes with a warranty from the manufacturer.
PROS
Easy to warm and cool under running water

Does not require extra equipment or supplies

Can be used for couple's play and/or vaginal stimulation
CONS
Lack of vibes/rotation may not be as pleasurable for some users

May be too intense for beginners

#7 The Fun Factory Duke Prostate Stimulator
---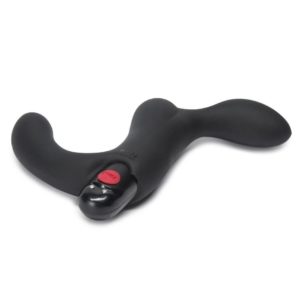 This thing doesn't look much like the traditional prostate massager for men, but we assure you it is.
The sleek, curvy and powerful device acts as a manual p-spot stimulator that's designed for versatility and maximum pleasure.
It provides some of the deepest anal penetration possible while possessing a body-conscious shape that targets the prostate gland and perineum at the same time without having to move the toy around.
Wear it on silent during foreplay or sex to hit multiple erogenous zones simultaneously or enjoy the 5-speed vibrations while you rock the boat.
It's made out of skin-safe silicone and bends to fit the nooks and crannies of you or your partner's body, so there's no reason why a beginner couldn't love the sophisticated Fun Factory Duke as well.
PROS
Flexible for better comfort and versatility

Removeable bullet vibrator

Rechargeable battery

Back-facing curve and specialized bump for maximum stimulation
CONS
Doesn't come with a remote control

May be the wrong size and shape for some body types

#8 The Aneros Helix Syn Small Prostate Massager
---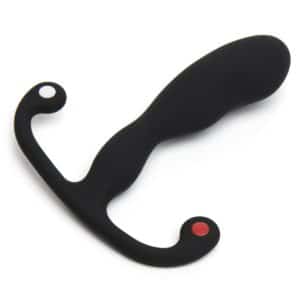 Ah yes, the Aneros Helix Syn – the world's first and only trident-style prostate massager designed exclusively for men.
This three-pronged prince features an ergonomic bulbous head that tapers down to the enhanced safety handle that spreads out to both sides to promote secure fisting actions and increase the driver's control.
Angled and contoured for superior comfort, it still aggressively attacks the p-spot while giving a slight tickle to the perineum as it's down there.
This well-made device is also crafted out of high-grade silicone that's FDA approved and suitable for almost every single body type under the sun, so it's ideal for couple's play and solo stimulation as well.
PROS
Perfect for traveling and discretion

Easy to clean and maintain

Deep penetration possible

Feels great when turned and twisted
CONS
Does not use vibrations or rotations for enhanced pleasure

May not be big enough for experts

#9 The Rocks Off 7-Function Naughty Boy Large Prostate Stimulator
---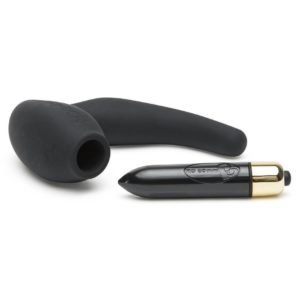 The makers of this product want you to get off like never before using their Rocks Off Naughty Boy prostate massager.
This massive device may not be ideal for beginners but it's certainly suitable for anal experts who would enjoy a wide variety of pleasure functions (7 to be exact).
It's a tad bit slimmer than the brand's bigger Rude Boy model, plus it has gentler curves to support first-time anal play.
Angled and tapered at the head and bulbous towards the bottom, this impressive p-spot vibe features a bullet that sends sensations up the shaft and down to the perineum at the same time.
Roll it back and forth across the prostate or wear it hands-free for a more versatile experience.
PROS
Designed for a "sit-and-rock" experience

Powerful yet whisper quiet operation

1.5V "N-type" battery included

Fully submersible in water
CONS
May not be suitable for all experience levels

Not harness compatible

#10 The Lovehoney Desire
---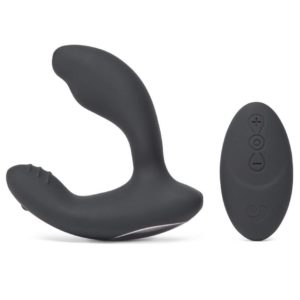 It's made to be a couples-friendly anal pleasure product but it does so much more than produce backdoor orgasms with the help of a partner.
The Lovehoney brand's Desire prostate massager maximizes stimulation through its ergonomic dimensions, plus it's tapered ever so slightly to provide a smoother, less painful insertion.
Crafted out of skin-safe silicone and featuring 8 different vibration modes (with a dozen different intensity levels to explore), the LD is also remote controlled wirelessly and can be worn for long periods of time due to its L-shaped design.
Best of all, it has an exceptionally long battery life and it can be taken along on trips thanks to convenient travel lock feature.
PROS
Comes with a protective storage case

Rechargeable via USB

Fully submersible in water

8-meter wireless remote range
CONS
Remote control requires spare batteries and is not waterproof

May be too large for some users

Some Other Shit That Also Matters When Shopping For Prostate Stimulators
While the price of any prostate massager is bound to sway your decision one way or another, you can't worry too much about the cost until you've given due consideration to the rest of this list.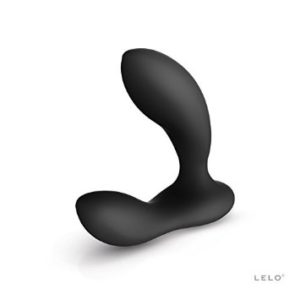 Also, be sure to check out the toy's power source while you're at it – electrical, battery-powered, rechargeable, etc.
Rechargeable toys are cheaper to operate and often more convenient, but battery-powered and electrical toys have zero wait time and are more ideal for longer sex sessions.
One more thing: see if your favorite prostate massager is compatible with any other toys on the market.
Some of the more innovative manufacturers have created entire collections of compatible, interchangeable sex toys for men, women, and couples, with Bluetooth connectivity, VR content, and apps for your smart device.
Oh, what a wonderful time to be alive.
Where To Buy The Best Prostate Massagers Online:
LOVEHONEY ONLINE – The best online sex toy store which offers very fast and discreet delivery.
Prostate Massager FAQ
Q: How do I take care of this thing when I'm done?
A: All prostate massagers are made differently, so be sure to mind the care and maintenance instructions included in the box.
Many manufacturers offer a limited warranties on their devices, but that's not always the case.
If so, be sure to register it within 30 days of your purchase to avoid it going void. If one is not included, just take special care when you're not using the device by keeping it clean, dry, and put away at all times.
NOTE: Proper cleaning of a prostate toy is extremely important because the anus is full of bacteria.
Never insert a used toy into your body without washing it with warm water and a non-abrasive antibacterial soap.
Q: Is there a special way to store my device when it's not in use?
A: Storage of a p-spot massager is essential but it's also pretty easy.
Most devices are relatively small, meaning they fit snugly in tiny places like dresser drawers and bedside tables. Some come with their own storage containers while others do not.
Either way, be sure to keep your toys away from direct sunlight and out of areas that are prone to moisture and/or extremely hot or cold temperatures.
Refrain for putting your device near dusty atmospheres too, especially if the toy is made from a soft material like silicone, rubber or latex.
Q: Is it true that it's healthy to participate in anal massage?
A: Yes, prostate massage (otherwise known as "prostate milking") is a practice that's very beneficial to a person's health.
In fact, men who engage in p-spot play are generally better off physically, emotionally and mentally because of the extreme sensations, customizable functionality, and natural oxidative stress release.
According to modern science, guys who milk their prostates are happier as well, mostly because they're not so sexually frustrated by lackadaisical orgasms achieved through repetitive stimulation to the penis only.
FUN FACT: There's also a direct link between routine p-spot play and a significantly reduced risk of ass cancer, by the way.
Q: How do I introduce a desire to use a prostate massager for the first time to my partner?
A: Sexual desires and limitations vary from couple to couple, but one thing is for sure: introducing a new type of pleasure play can be frightening if it's not given the white glove treatment.
Open up a dialogue about your fantasies and be as honest as possible without scaring the other person off with your debauchery.
Take things slow and start out with a small device then gradually move your way up from there.
If using a device with additional pleasure functions like rotations and/or vibrations, begin on the lowest setting until you've gotten used to the sensations.
When possible, involve your partner in the play, even if that means letting them have a turn when you're done.
Q: How often can I use it without it hurting me, if that's even possible?
A: Yes, if you misuse a prostate massager you can get hurt. Dirty devices, overly aggressive thrusting, lacking lube supplies and irresponsible swapping can lead to disaster.
However, proper use a p-spot device is not harmful to the user's health in any way.
Generally speaking, the average man can use one of these toys every single time he has sex and/or masturbates and he will never suffer from health problems and injury as long as he uses it as directed by the manufacturer.
Q: Does it make me gay because I enjoy prostate stimulation?
A: No, using a prostate pleasure device (or any other anal-based sex toy) does not make you a homosexual.
Your preference to men over women as lovers is what makes a personal gay or not, with no consideration given to the sex acts they perform to achieve orgasm.
Considering the fact that prostate play is so healthy for a man's body, it would be a shame for the homo community to keep it all to themselves, although outstanding taboos are working hard to keep it that way.
Especially when used with a partner of the opposite sex, these devices can enhance intimacy and intensify orgasms for both people.
Q: I'm confused. Are there different sizes and how do I know which one is right for me?
A: These toys now come in almost every size and shape imaginable, so determine your ideal dimensions based on your comfort level, intentions and desired level of intensity.
Beginners should probably always start with smaller models, while experienced veterans can branch out to the bigger toys without much trouble.
Whatever you do, use plenty of water-based anal lube for best results regardless of the size you choose.
Q: I'm new to this whole p-spot stimulation thing. How do I know I'm doing it right?
A: Basically, if it feels good and doesn't hurt then you know you're doing it right.
As long as all the directions from the manufacturer have been considered and met, there should be no cause for alarm while you're masturbating with one of these devices.
As a general precautionary measure, never fully insert a massager into your anus unless it has a safety handle of some sort attached at the end.
Q: Do I need any special skills or equipment to use one of these sex toys?
A: Usually, anyone can use a prostate pleasure producer without much trouble, even if they don't have a huge stash of complimentary supplies when they start.
Typically, the only thing you'll need is a tube of water-based lubricant and some good sex toy cleaner.
In some cases, you may need to purchase batteries for a vibrating bullet and/or wireless remote but that's pretty much it.
Q: Do I really have to use a ton of lube when masturbating with a prostate massager?
A: Simply put: Yes, you have to use a lot of lubricant when masturbating with an anal sex toy.
The human anus does not produce its own lubrication, which means any insertion thereof needs to have some on it.
Lacking lube can lead to extreme pain, swelling, bacterial infections, and even anal fissures.
Bite the bullet and buy some for best results.